Say hello to pride month guys! 🌈 🌹 I LOVE reading about queer people and so many of my favorite books stem from this genre, but I wanted to read more LGBTQ+ books, and what better time than the pride month? So, I thought of sharing some of the LGBTQ+ books on my TBR. 😇 And these are not all the books, but just some of them that I really want to get to. yeah, do you see the emojis making a come back? I missed them.
LGBTQ+ BOOKS ON MY TBR:
carry on by rainbow rowell
Simon Snow is the worst Chosen One who's ever been chosen. That's what his roommate, Baz, says. And Baz might be evil and a vampire and a complete git, but he's probably right.
Half the time, Simon can't even make his wand work, and the other half, he starts something on fire. His mentor's avoiding him, his girlfriend broke up with him, and there's a magic-eating monster running around, wearing Simon's face. Baz would be having a field day with all this, if he were here — it's their last year at the Watford School of Magicks, and Simon's infuriating nemesis didn't even bother to show up.
I feel like I will either love this or completely hate this. But I think this might go to a the all time favorite shelf because someone told me that it gives off a lot of Harry Potter vibes, ✨ and it has dragons! 🐉
---
cloaked in shadow trilogy by ben alderson
Zacriah Trovirn is concerned with two things in life: hunting and dodging Petrer, the boy who broke his heart. Heartbreak becomes a distant concern when Zacriah is taken to the Elven capital of Thessolina, where he is forced into King Dalior's new legion of shapeshifters. But Zacriah isn't a shapeshifter. In truth, he doesn't know what he is.
Zacriah joins forces with new friends and they soon find themselves embroiled in a clash between the three Elven continents. With war looming on the horizon, Zacriah must learn to use his latent power to fight and protect those he loves before they are destroyed.
I came across this series in an Instagram reel and I loved that Ben wrote this series, because he wants to read it. 🖋 I mean – that's super dope and cool! 🗡Can't wait to read this!
---
the house in the cerulean sea by t.j. klune
A magical island. A dangerous task. A burning secret.
Linus Baker leads a quiet, solitary life. At forty, he lives in a tiny house with a devious cat and his old records. As a Case Worker at the Department in Charge Of Magical Youth, he spends his days overseeing the well-being of children in government-sanctioned orphanages.
When Linus is unexpectedly summoned by Extremely Upper Management he's given a curious and highly classified assignment: travel to Marsyas Island Orphanage, where six dangerous children reside: a gnome, a sprite, a wyvern, an unidentifiable green blob, a were-Pomeranian, and the Antichrist. Linus must set aside his fears and determine whether or not they're likely to bring about the end of days. But the children aren't the only secret the island keeps. Their caretaker is the charming and enigmatic Arthur Parnassus, who will do anything to keep his wards safe. As Arthur and Linus grow closer, long-held secrets are exposed, and Linus must make a choice: destroy a home or watch the world burn.
Do I even need to explain why I want to read this book except – HYPE!! 🤸‍♀️Yeah, I am finally giving in to it. I feel like everyone and their mother and sister and grandmother keeps talking about it, and it's about time I read this well-loved book.
---
of fire and stars by audrey coulthurst
Betrothed since childhood to the prince of Mynaria, Princess Dennaleia has always known what her future holds. Her marriage will seal the alliance between Mynaria and her homeland, protecting her people from other hostile lands. But Denna has a secret. She possesses an Affinity for fire—a dangerous gift for the future queen of a kingdom where magic is forbidden.
When a shocking assassination leaves the kingdom reeling, Mare and Denna reluctantly join forces to search for the culprit. As the two become closer, Mare is surprised by Denna's intelligence and bravery, while Denna is drawn to Mare's independent streak. And soon their friendship is threatening to blossom into something more. But with dangerous conflict brewing that makes the alliance more important than ever, acting on their feelings could be deadly. Forced to choose between their duty and their hearts, Mare and Denna must find a way to save their kingdoms—and each other.
So, I really loved Fireheart Tiger which was a small novella with Sapphic romance, 💖 and set in a fantasy world with lots of magic, ♛ and I have been looking for similar books, and I came across this. This series is not that popular, but I think I might love it!
---
ivy aberdeen's letter to the world by ashley blake
When a tornado rips through town, twelve-year-old Ivy Aberdeen's house is destroyed and her family of five is displaced. Ivy feels invisible and ignored in the aftermath of the storm–and what's worse, her notebook filled with secret drawings of girls holding hands has gone missing.
Mysteriously, Ivy's drawings begin to reappear in her locker with notes from someone telling her to open up about her identity. Ivy thinks–and hopes–that this someone might be her classmate, another girl for whom Ivy has begun to develop a crush. Will Ivy find the strength and courage to follow her true feelings?
Nothing to brighten up your TBR than a middle grade 🏃‍♀️ with LGBTQ+ representation. Honestly, I have only read one middle grade book, and I am really excited to see what this turns out like.💫
---
king and the dragonflies by kacen callender
Twelve-year-old Kingston James is sure his brother Khalid has turned into a dragonfly. When Khalid unexpectedly passed away, he shed what was his first skin for another to live down by the bayou in their small Louisiana town. Khalid still visits in dreams, and King must keep these secrets to himself as he watches grief transform his family. It would be easier if King could talk with his best friend, Sandy Sanders. But just days before he died, Khalid told King to end their friendship, after overhearing a secret about Sandy—that he thinks he might be gay. "You don't want anyone to think you're gay too, do you?"
But when Sandy goes missing, sparking a town-wide search, and King finds his former best friend hiding in a tent in his backyard, he agrees to help Sandy escape from his abusive father, and the two begin an adventure as they build their own private paradise down by the bayou and among the dragonflies. As King's friendship with Sandy is reignited, he's forced to confront questions about himself and the reality of his brother's death.
Not going to lie, totally picking up this book because of the title ♚ and the cover. 📖 I mean it's rare that I actually like the title and just look at this one – so wholesome ah!
---
THE FOXHOLE COURT BY NORA SAKAVIC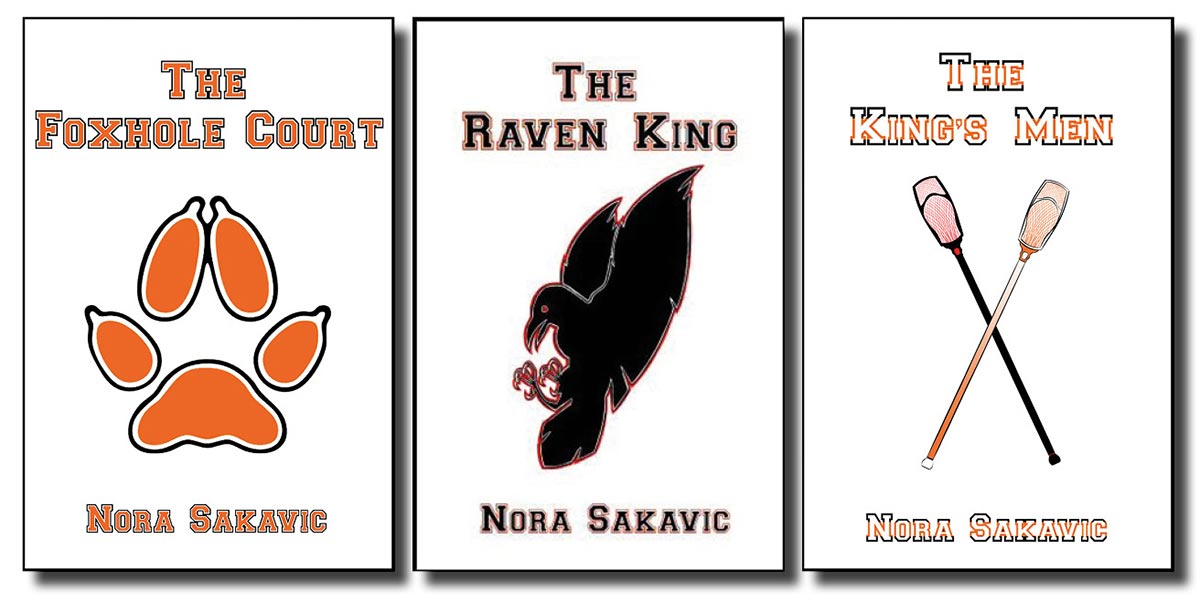 Neil Josten is the newest addition to the Palmetto State University Exy team. He's short, he's fast, he's got a ton of potential—and he's the runaway son of the murderous crime lord known as The Butcher.
Signing a contract with the PSU Foxes is the last thing a guy like Neil should do. The team is high profile and he doesn't need sports crews broadcasting pictures of his face around the nation. His lies will hold up only so long under this kind of scrutiny and the truth will get him killed. But Neil's not the only one with secrets on the team. One of Neil's new teammates is a friend from his old life, and Neil can't walk away from him a second time. Neil has survived the last eight years by running. Maybe he's finally found someone and something worth fighting for.
Demisexual characters, tons of action, and please just check out the fanart guys! That totally sold me! And it gives me like "secret government operations"/"spy" movies vibes! 💣 And I love those nail biting movies! ✨ Highly recommend if you like books by Anthony Horowitz.
---
MY BOOK CLUB PICK:
As many of you might or might not know, I run a Goodreads book club – BOOKS GO BOOM! with Cherelle @ a bolt out of a book. And the good news is that this month we are back from our short-termed hiatus! We have set up the polls and from the votes so far, it appears that we will be reading Lore by Alexandra Bracken, however the polls close on 5th June, and you have still got time to choose the book you want to read! You can join us here.
A SMALL ANNOUNCEMENT:
It is really a small announcement hehe. So, I was thinking about writing new new kinda posts. I realized how much people enjoy participating in readathons, and for me, even when I don't participate, I like to watch the videos and make TBRs with no intention of reading lol. Besides, it's just so much fun to match books with all the prompts. So, I was thinking of making a monthly post with a list of all the upcoming readathons, so you guys can check it out before it's too late. I will try to list all of them, but I might miss out quite a few. But like I said, I will try my best!
---
And the second idea. I am really really nervous about this 😳 but if you have read my earlier posts, you know that I have started working ✒️ on my own book, and I realized exactly how much research you actually need to do. And I kinda like researching and looking up stuff, 💻 but I was talking to panna and I realized that loads of people actually don't enjoy researching.
So, while I was researching, (I research stuff a lot) I was able to come up with ideas of my own, 💡 and I figured that since soo many people here in the blogosphere seem to be working on their books, why not share them? So, every month or I don't know week? 😅 I still haven't figured out the frequency (crap. that sounded like physics.) but I would love to post stuff about writing books and editing. 🥰
so………………………………..
what do you guys think? would you be interested?
Also, I wanted to give a huge shout out to a blog that I recently stumbled across – LitForQueers. If you guys ever need any LGBTQ+ book rec, just hop over to this blog, because they provide such cool content, 😍 and provide some awesome book recs! I end up saving a lot of their posts, 😂and then increasing my TBR each day. 🤦‍♀️
Now time for some chit-chat! So, tell me about some of your favorite LGBTQ+ books please! I need to find more, and what are your reading plans for this month? and hey, would any of you be interested in buddy reading a book on this list?