ashmita, fashion? i thought this is a book blog? yes, yes. i know. well, mr. dobby is one of my absolute favorite fictional character, not to mention the fact that so much of the story depends on him too! and with his colorful socks, charming heart, and confident demeanor – i say that he is no less than a fashion god and you cannot convince me otherwise.
so, today i am here with a list duh. but it is not your usual list. i had the utmost pleasure of personally meeting him via a pensieve which belongs to uh….well, now that is a long story, one that we shall get into some other time. but for now, i cannot wait to share the list of dos and don'ts.
just a disclaimer: i am not very well-versed in the topic of "fashion". actually, i have no idea regarding fashion. so, read at you own risk.
but here is something that i would like you to know before reading this: fashion does not only imply that glamorous and dangerously beautiful industry that prides itself on exterior beauty only. life is fashion. read this excerpt from an article published by the university of illionois –
Life is vibrant, and unique. Life is known as a fashion show because fashion shows have models cat walking in the runway to show off different styles and the unique color clothing similar to humans. Humans are all different, and unique in one way. In a fashion show, you need models to show off different clothing to show different vibrants. These models walk the runway with the clothing they were chosen to wear to show how the clothing should be represented. My life is similar to a fashion show because obviously everyone is different and clothes that the models wear on the runway show the differences of everyone. Clothes are different and unique and it represent who you are, such as you can look sassy, punk, cute, or classy. Life is a fashion show because life is your own runway. My life is like a fashion show because everyday we see different people with different styles, and it brings out vibrant. Even though everyone is different it still shows that every lives matter and that everyone can walk in a runway.
d o s : –
#1 be free
whether it be hogwarts or this world, one can never really escape the scorn-filled words of society when they set eyes on something that is different. but dobby didn't get where he is by following the norms of society. be wild. if you want to wear a blanket or just underclothes or a dress made of papers (which would be pretty cool actually) – i want you to go for it. find ways that will set you free. your freedom is in your hands and no one is going to hand it to you. so – read music, write sketches, sing stories, and paint your life.
---
#2 be colorful
dobby wears a drabby old grey sack sorta thing Dobby always tries to be colorful. "bullshit!" – you might say, because it is indeed a very contradictory statement. but being colorful doesn't necessarily mean wearing colorful. be the most colorful person in the room even when you are wearing the most dreariest, crabbiest, shabbiest garment ever. and it is perfectly fine if somedays you are down and you need a little time for yourself. go forth and take it. but come back again – and spread colors. but this also doesn't imply being incredibly upbeat and social – it just means that you are just colorful. so, when some magical creatures look at you, they see a bright shade of colors coming from you and not something grey, foggy, sticky, muddy, pudgy ..*cringes awkwardly* Dobby hopes you get the point.
---
#3 set the trend
Dobby was the only happy elf for a while. Dobby's own kind had only disapproving stares for him for being unorthodox, for breaking the norms. but now, as Dobby spies on them from the pictures hung in the hogwarts kitchen, Dobby is elated because his friends are following in his footsteps. once they have been shown that that there is always a way to be "not-so-ordinary", people will follow you. and follow doesn't mean following your same path, but daring to create themselves – just like you did. and wouldn't it be really cool, if you are to set the trend of being you!
d o n' t s : –
#1 don't be afraid of experimenting
for years Dobby dreamed about freedom and a happy life with socks and friends, but dobby was so afraid until one day dobby just had to take the first step for his friend's life was at stake, but you, my friend don't want to waste years like this house elf here. hehe *laughs awkwardly* it's okay to be afraid of trying something new. but if you never do, you will never know. and you cannot even fathom what you are missing out on! But on the other hand if you don't try – you already know what's goona happen – Dobby means that worst that can happen is that – you get called a stupid name and teased for a few days maybe even years…but honestly hehe – but people forget. so, let them go to hell. at least you will have a good story to tell!
---
#2 don't be afraid of taking what you deserve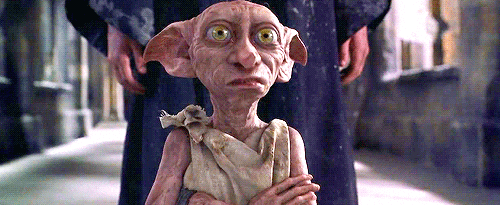 you think you deserved better? you want that person to treat you better? then why are you sulking around? if you don't speak up for yourself, no one will. if someone dares to deprive you of what you deserve, you know – every once in a while you need to put a person in their place. and sometimes, trust this humble house elf here, a lil' bad mouthing is just fine. you honestly can't hope to be the good guy in everyone's story right?
---
#3 be yourself
be the best version of yourself. you do that by paving your own path. following someone else's footsteps will just bring out another version of yourself. but you belong to you. every part of you is copy-righted. just because something has worked out for someone else or maybe the whole world, doesn't mean that it will work out for you. you have to try something new, because you want to be the first you and not the second someone else.
b o n u s – p o i n t – a y e e!
you must NEVER forget your socks. you know what that means? it means that never forget your sass guys! everyone has got it! don't even try to tell me that you haven't got it! 'cause you HAVE IT! sass is a very interesting thing – and it differs from person to person. my sass might me quoting shakespeare while yours might be literally comparing everyone to their greek parents and making up shit on spot (which is pretty cool by the way!) also, i still haven't found my sass, but i hope to soon! Good luck to you, in case you haven't and if you have let me know!
a small note: i just want everyone to know that i do not support the author j.k. rowling by any means. i found out about her distinguished and aggressive uh…opinions after i joined this community (i am not going to elaborate on the topics here because i don't want such saddening things in this lively post. if you wish to know more about her thoughts and opinions please google it. i am sure that there are many articles online.) harry potter was a huge part of my childhood and although i am truly disgusted by her stand, i cannot stop loving harry potter. i do not support the author and i never will. it is really unfortunate that something as good as the world of harry potter came from her, but i have learnt to separate the two and live with it. i am extremely sorry if this post offends anybody, but my intention is not to spread hate. thank you for taking the time to read.
---
Hey, guys! So, this post has been sitting in my drafts folder for months because I was really unsure about this. Firstly, because it's incredibly different from my usual posts and secondly because I had no idea how you guys would perceive it or if I was doing it properly. I even trashed it. haha. But it's like you know? one of those ideas that simply refuse to leave your mind until you have put it out there. Yep! So, here it is. I had a blast (and lots of stressful freak outs) while writing this but onto my most important question –
did you enjoy this? ahhhhh and what do you think of this weird random post? ahh Let me know in the comments below <33