Do you have your Goodreads opened in another tab? * waiting * Awesome! Get your coke, Get your pen. Cause' it's time to grow that pile of shame aka THE TBR *muuhhwahhaha*
*(glossary time) tbr: to be read list*
If you guys didn't know, I am an Asian, and I love to see my culture, your culture, everyone's culture represented in books. Because who doesn't? And if you are one of those people who believe that diversity in books is not necessary, let me spell it out for you: you are a D-O-R-K. Just kidding. You just need to educate yourself a bit.
Diversity in itself is very important not just for the sake of representation and for fancy terms like equality. It's important because it exists, it's real, and no one has the right to judge someone based on their cultural/personal/literally anything background. It helps in shaping people's mentality and is important for psychological development as well. You might want to check out this new/ongoing research by J @midnight book blog, on the importance of diversity.
Now, let me increase your legendary taller-than-you TBR. Curse me now, but read these books and thank me later. ILY ❤
TᕼE – ᐯEᖇY – Gᒪᑌᗰ – ᒪIᖴE – Oᖴ – TOOTOOᒪᑌ – TOOᑭ
One Line Pitch: A delicious adventure set in Darjeeling about a young witch's attempts at living a human life.
To every witch, wizard and glum,
I'm Tootoolu Toop, a ten-year-old, fully trained witch of the Oonoodiwaga tribe from the Darjeeling mountains. Like every other ordinary human who wants to live a life of magic, us witches and wizards want to experience the non-magical world too (I do for sure). For me, the 'ordinary' world is nothing short of an adventure. So I have left my tribe to live life as a glum.
This is my story.
Read it NOW because:
🚀 fast-paced
🍂 vivid descriptions
💫 magical
💖 heart warming & delightful
👀 mystery
Tootoolu is on the run. From her mundane life of stirring grasshopper's legs into potions and her underground home where her tribe has been in hiding for 569 years. Will Tootoolu find what she's looking for-best friends, books and a chance to be who she truly is?
Every second of this book is sheer magic. I live a few hours of train journey from Darjeeling, and I was 🤏 this close to running away and going in search for her.
TᕼE – ᑎIGᕼT – ᗪIᗩᖇY
One Line Pitch: A poignant, personal, and hopeful tale of India's partition, and of one girl's journey to find a new home in a divided country.
It's 1947, and India, newly independent of British rule, has been separated into two countries: Pakistan and India. The divide has created much tension between Hindus and Muslims, and hundreds of thousands are killed crossing borders. Half-Muslim, half-Hindu 12 yr old Nisha doesn't know where she belongs, or what her country is anymore. When Papa decides it's too dangerous to stay in what is now Pakistan, Nisha and her family become refugees and embark first by train but later on foot to reach her new home.
Read it NOW because:
🤕 heart breaking
🌷 finding oneself
🎶 lyrical
🌊 satisfying
The Night Diary is a heartfelt story of one girl's search for home, for her own identity…and for a hopeful future.
A powerful and thought provoking story, told through Nisha's letters to her mother up in the skies. 💔 This is unlike any book that you will ever have the pleasure of laying your eyes on.
ᗩ – SIᑎGᒪE – Sᕼᗩᖇᗪ
One Line Pitch: Set in 12th century Korea, following Tree-Ear on a timeless journey, which brings nature alive and sets all your feelings on fire.
Tree-ear, an orphan, lives under a bridge in Ch'ulp'o, a potters' village famed for delicate celadon ware. He has become fascinated with the potter's craft; he wants nothing more than to watch master potter Min at work, and he dreams of making a pot of his own someday. When Min takes Tree-ear on as his helper, Tree-ear is elated–until he finds obstacles in his path: the backbreaking labor of digging and hauling clay, Min's irascible temper, and his own ignorance. But Tree-ear is determined to prove himself–even if it means taking a long, solitary journey on foot to present Min's work in the hope of a royal commission . . . even if it means arriving at the royal court with nothing to show but a single celadon shard.
Read it NOW because:
🎶 lyrical
🌔 character arc
💫 magical
😓 right in the feels
A coming of age story that speaks in a universal language ✨ and beseeches to YOUR need to belong, urges you to stop and think, implores you to look around.
GIᖇᒪ – GIᗩᑎT – ᗩᑎᗪ – TᕼE – ᗰOᑎKEY – KIᑎG
One Line Pitch: Frrakishly strong girl makes a deal with a trickster god, and is thrown into the world of demons, dragons, and Jade Princesses.
Eleven-year-old Thom Ngho is keeping a secret: she's strong. Like suuuuper strong. Freakishly strong. And it's making it impossible for her to fit in at her new middle school. In a desperate bid to get rid of her super strength, Thom makes a deal with the Monkey King, a powerful deity and legendary trickster she accidentally released from his 500-year prison sentence. Thom agrees to help the Monkey King get back his magical staff if he'll take away her strength.
Read it NOW because:
🚀 fast-paced
⚔️ action jam-packed
➰ great friendships
🏃‍♀️ quest
As Thom is swooped up in this ancient and fantastical world, she will quickly discover that magic can't cure everything, and dealing with the trickster god is more trouble than it's worth.
Pick up this book Vietnamese Mythology inspired book right now, 🤸🏼‍♂️ because this will have your fingers itching to turn the page.
TᕼE – ᑕᖇYSTᗩᒪ – ᖇIᗷᗷOᑎ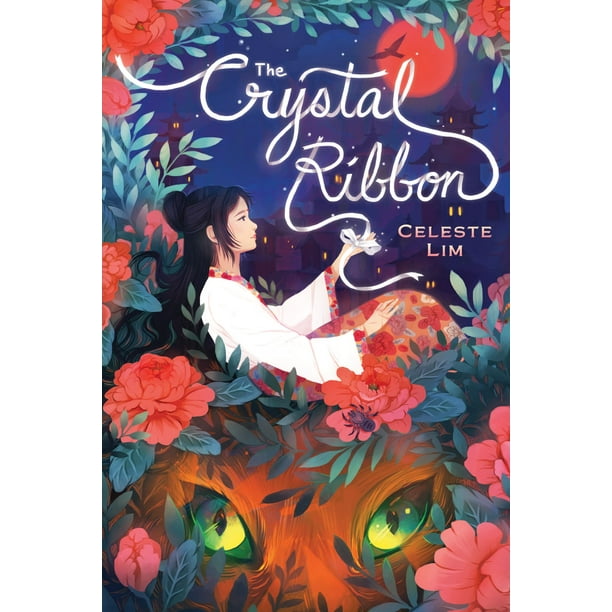 One Line Pitch: Set in medieval China, an unravelling story inspired by myths and long destined glory, in a quest to find more than oneself.
In the village of Huanan, in medieval China, the deity that rules is the Great Huli Jing. Though twelve-year-old Li Jing's name is a different character entirely from the Huli Jing, the sound is close enough to provide constant teasing-but maybe is also a source of greater destiny and power. Jing's life isn't easy. Her father is a poor tea farmer, and her family has come to the conclusion that in order for everyone to survive, Jing must be sacrificed for the common good.
Read it NOW because:
💫 magical
🦉 talking animals
🌷 finding oneself
🌊 satisfying
This book holds a very special place in my heart because this is the first book I ever annotated, and the first book that took me to the timeless setting of China. 🌼 This is a book which makes your heart feel like "a-flower-just-bloomed".
ᗷEᗩSTS – ᗩᑎᗪ – ᗷEᗩᑌTY: ᗪᗩᑎGEᖇOᑌS – TᗩᒪES
One Line Pitch: Twelve tales, twelve dangerous tales of mystery, magic, and rebellious hearts. Each twists like a spindle to reveal truths full of warning and triumph, truths that capture hearts long kept tame and set them free, truths that explore life . . . and death.
You think you know these stories, don't you? You are wrong. You don't know them at all.
A prince has a surprising awakening . . A beauty fights like a beast . . A path to happiness is lost. . . . then found again.
Read it NOW because:
💫 magical
📝 retelling
🌒 dark
🎶 lyrical
A re-spin on old stories into fresh fairy tales in a world like no other. These stories know you. They understand you. They reflect you. They are tales for our times. So read on, if you dare.
This is actually the perfect time to talk about this, because this book releases on September 1st, 🐉 and we all love a good Soman Chainani book.
TᕼᗩT – TᕼIᑎG – ᗩᗷOᑌT – ᗷOᒪᒪYᗯOOᗪ
One Line Pitch: Bollywood takes over in this contemporary, magical middle grade novel about an Indian American girl whose world turns upside down when she involuntarily starts bursting into glamorous song-and-dance routines during everyday life.
You know how in Bollywood when people are in love, they sing and dance from the mountaintops? Eleven-year-old Sonali wonders if they do the same when they're breaking up. The truth is, Sonali's parents don't get along, and it looks like they might be separating. When she gets upset during a field trip, she suddenly bursts into a Bollywood song-and-dance routine about why she's upset! The next morning things seem brighter. Her parents have had Bollywood makeovers. Sonali knows something has gone wrong, can she figure it out before it's too late?
Read it NOW because:
💫 magical
💃 cultural fun
👀 mystery
😓 right in the feels
Relatable and bittersweet, this book will have you smiling in the most unexpected of times, and you might just find yourself breaking out into a song or a small power-dance. ✨ Or is it magic?
EYES – TᕼᗩT – KISS – Iᑎ – TᕼE – ᑕOᖇᑎEᖇS
One Line Pitch: Finding out about one's own heritage, and getting a chance to live the story through enamoring illustrations.
A young Asian girl notices that her eyes look different from her peers'. They have big, round eyes and long lashes. She realizes that her eyes are like her mother's, her grandmother's, and her little sister's. They have eyes that kiss in the corners and glow like warm tea, crinkle into crescent moons, and are filled with stories of the past and hope for the future.
Read it NOW because:
🌷 finding oneself
🌊 satisfying
😓 right in the feels
🎨 beautiful illustrations
Drawing from the strength of the powerful women in her life, she recognizes her own beauty and discovers a path to self love and empowerment.
To be honest, this book is for a very young audience, so skip it if you want but if you have a younger someone at your home, make them read this, or read it to them. 🌼 Besides making them happy, it will also help them understand the importance of heritage at a young age.
And of course, I didn't include all the books that I wanted to talk about, because I know exactly how teeny your attention span is. (secret: mine is shorter. always.) So, keep an eye out for part two. The emoji part is inspired by Amanda @ Bookish Brews and Susan @ Girl on Books rec lists!
Thanks for reading lovely people. I hope you are having a great day.
Keep on keeping on. See ya in the comments below.